technical parameters
| | | | | | |
| --- | --- | --- | --- | --- | --- |
| model | Feeding material size(mm) | Impeller speed(r/min) | power(KW) | capacity(t/h) | boundary dimension(mm) |
| PL(ST)-550 | 30 | 2258-2600 | 30-45 | 24-60(-5mm,30-60%) | 2550*1650*2380 |
| PL(ST)-700 | 35 | 1775-2050 | 55-90 | 55-95(-5mm,30-60%) | 3312*1840*2800 |
| PL(ST)-850 | 50 | 1460-1720 | 110-200 | 100-220(-5mm,20-60%) | 3630*2200*2860 |
| PL(ST)-850 | 50 | 1460-1720 | 150-220 | 113-240(-5mm,20-60%) | 4700*2200*2850 |
| PL(ST)-1000 | 60 | 1240-1460 | 220-320 | 180-345(-5mm,20-60%) | 5060*2290*3700 |
| PL(ST)-1000 | 60 | 950-1220 | 320-500 | 315-580(-5mm,20-60%) | 5570*2660*3750 |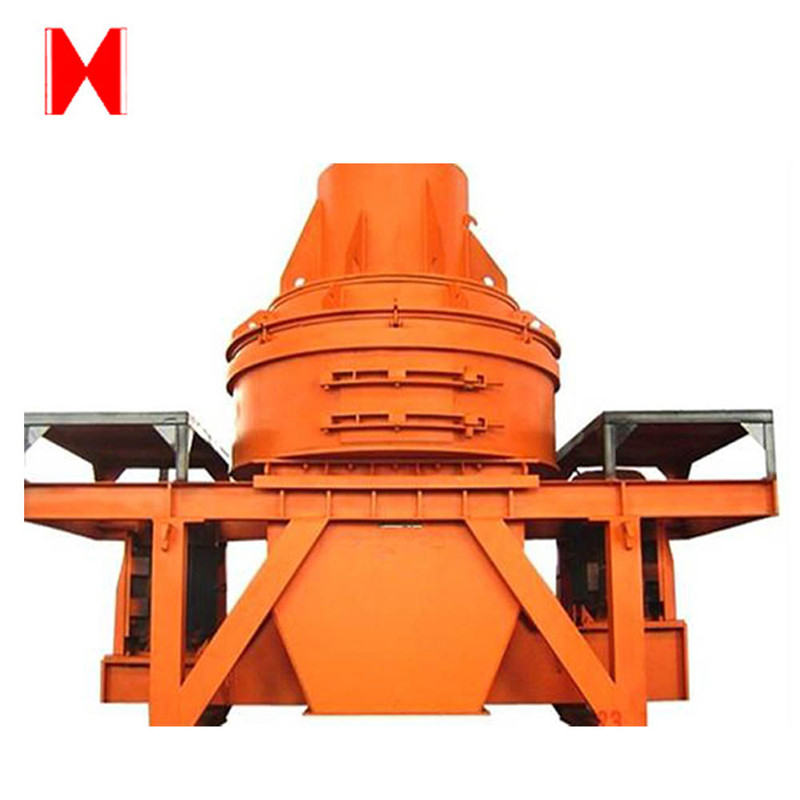 product brief introduction
Widely used in water conservancy, hydropower, refractory, construction, high grade road, railway and other industries of artificial sand production operations.Especially for granite, basalt, gray-green rock, sandstone and other medium hard, especially hard, corrosive materials, than other types of products have more advantages.In the aspect of artificial sand production, its crushing capacity is far beyond that of other similar products, and is the most ideal artificial sand production equipment at present.
PL Vertical Impact Crusher is a perfect combination of unique rotor structure design, wear-resistant material technology, crushing speed optimization and hydraulic design. It's a classic example of the perfect blend of professional, technical and mechanical, and it's the full embodiment of new technology and new craftsmanship.This machine can realize the ingenious transformation of "PL" and "PLST". "Stone stone" is used for hard material processing, the sand production rate is about 40%. The "stone iron" type is used for the processing of medium and hard materials, and the sand production rate is 40%~60%.


performance
1. Unique design of rotor and cavity, large capacity of treatment, high sand forming rate, cube shape and high packing density.
2. Multi-usage, flexible application - unique feed crushing structure, and has many kinds of crushing cavity type, can be very convenient to realize "stone hit stone" and "stone while the iron is hot" transformation, so as to solve the problems of multi-usage.
3. Special drive mechanism makes the equipment run at high speed and smoothly.
4. The unique structure and materials of wear-resistant parts extend the service life and reduce the running cost.
5. Automatic hydraulic opening, lubrication, vibration prevention, temperature control and timing sensing device to ensure safe operation and easy operation.
6. Clever internal air circulation reduces dust dispersion.
7. It has the function of fine crushing and rough grinding.
8. High reliability and strict safety guarantee device to ensure equipment and personal safety.
9. Stable operation, low working noise, high efficiency, energy saving and high crushing efficiency.
10. The wearing parts have low energy consumption, and the wearing parts are made of the best wear-resistant materials in domestic and overseas, with a long service life.
11. The material self-lining in the impeller and vortex crushing chamber greatly reduces the cost of wear parts and the maintenance work. In the process of production, the stone can form a protective bottom, the fuselage is not worn, durable.


Inner constuction
"PL" : the material falls vertically and uniformly from the upper part of the equipment. Some of them enter the rotating impeller cavity at high speed through the feeder and the feeding tube. Under the action of high speed centrifugal force, they are ejected from the launching port of the impeller. and they are crushing in high speed with umbrella-type materials that falling in the circumference of the impeller by feeder shunt.
"PLST" : the material falls vertically and uniformly from the upper part of the equipment. Some of them enter the rotating impeller cavity at high speed through the feeding tube. Under the action of high speed centrifugal force,they are crushing in high speed with an adjustable metal counterpunch plate or counterstrike bar facing the impeller directly in the vortex chamber







Company Introduction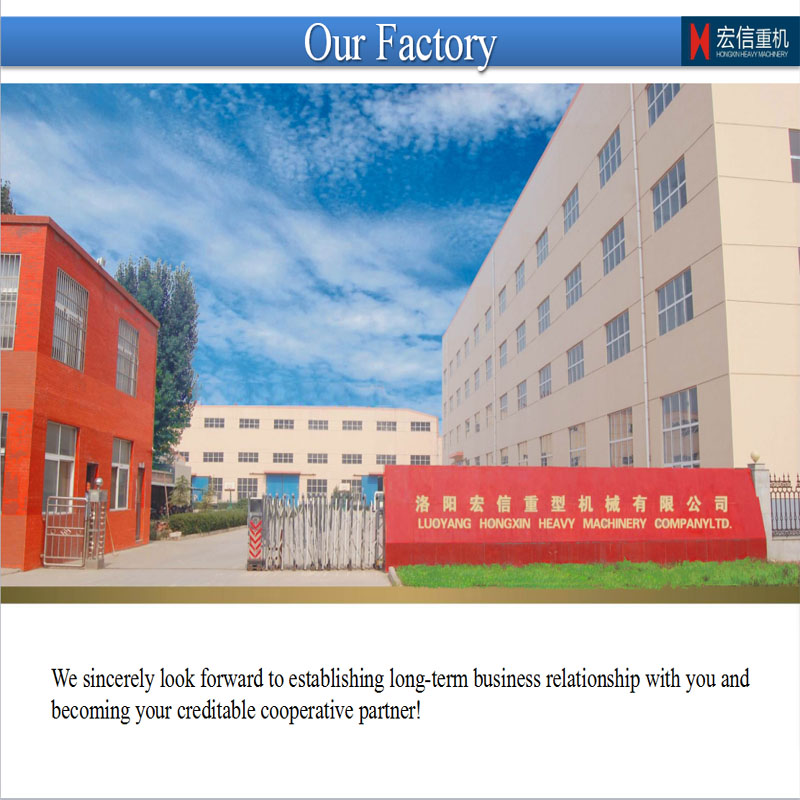 Luoyang Hong Xin Heavy Co., LTD. is located in Luoyang Xin'an Industrial Park, Luoyang Hongxin Heavy Machinery Co., Ltd is an enterprise featured with industrial designing, processing and manufacturing, which is qualified for import-export trade. Covering an area of 15,000 square meters and holding an annual production value of 80 million RMB, the company of 20 million RMB registered capital has total 100 staff members, among which there are 20 engineering technicians owning senior and medium professional titles and 40 intermediate and senior technicians capable of product designing and developing.
Hongxin is dedicated to produce reducers, hoists, crushers, Ball Grinding Mills and the equipments of screening, coal washing, metallurgy and cement, and replacement parts. Meanwhile, we provide the perform maintenance service for various series of equipments. There are 52 large-scale equipments applied into the manufacturing process, such as T200 CNC floor boring and milling machine, YK 73125 CNC molding gear grinding machine, YK322B CNC molding gear grinding machine, Y3200 gear hobbing machine, Y1600 CNC gear sharper, 4m vertical lathe, 6.3m CNC vertical lathe, T110 CNC boring machine, and 52 middle-sized productive and assistive equipments, which integrate strong manufacturing and processing capability with complete managing system of production and technology, quality management system and comprehensive testing measures.
Certificates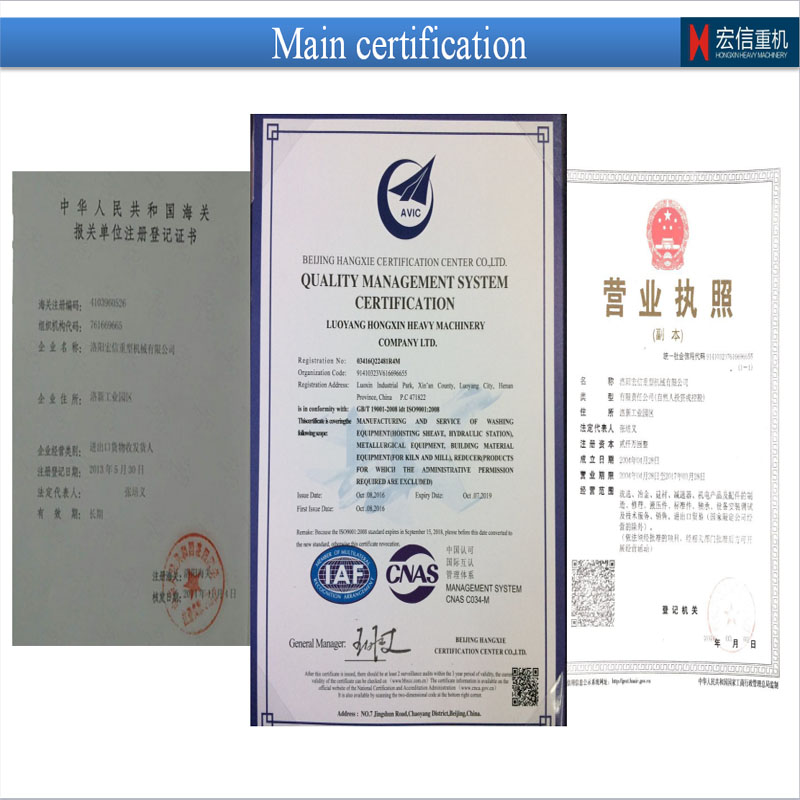 Contacts