product introduction
Large grinding equipment air swept mill used in coal grinding mill
Adapted to marine transportation or according to customers' demands
MODEL NNUMBER

SIZE&HEIGHT OF CENTER(mm)

WEIGHT(KG)

L

B

H

Ho

R

ZZL355

1151

748

594

280

280

633

ZZL400

1213

838

676

315

320

833

ZZL450

1325

912

746

355

350

1106

ZZL500

1441

1042

868

400

405

1631

ZZL560

1599

1122

992

450

450

2137

ZZL630

1767

1268

1072

500

495

2914

ZZL710

1947

1366

1177

560

545

4037

ZZL800

2099

1540

1358

630

600

5562

ZZL900

2208

1700

1470

710

665

7339

ZZL1000

2584

1930

1644

800

755

9732

ZZL1120

2774

2204

1869

900

850

14166

ZZL1250

3115

2470

2060

1000

950

18862

ZZL1400

3586

2708

2267

1100

1035

25122

ZZL1600

3952

2941

2570

1250

1135

33488

ZZL1800

4314

3324

2742

1360

1290

45051
MODEL NNUMBER

L

SIZE&HEIGHT OF CENTER(mm)

a

WEIGHT

(KG)

B

H

Ho

R

ZZDP355

1015

748

594

280

280

180

652.5

ZZDP400

1118

838

676

315

320

200

919

ZZDP450

1166

912

746

355

350

224

1139

ZZDP500

1298

1042

868

400

405

250

1710

ZZDP560

1445

1122

992

450

450

280

2222

ZZDP630

1603

1268

1072

500

495

315

3077

ZZDP710

1743

1366

1177

560

545

355

4195

ZZDP800

1940

1540

1358

630

600

400

5768

ZZDP900

2080

1700

1470

710

665

450

7376

ZZDP1000

2253

1930

1644

800

755

475

10049

ZZDP1120

2534

2204

1869

900

850

530

14522

ZZDP1250

2850

2470

2060

1000

950

600

19902

ZZDP1400

3287

2706

2267

1100

1035

670

26655

ZZDP1600

3488

2946

2570

1250

1135

750

34562

ZZDP1800

3928

3324

2742

1360

1290

850

47500
Model

ZQ

HIGH-SPEED SHAFT

LOW-SPEED SHAFT

Z

CA.C

F

d1

b1

l1

l2

t1

d2

b2

l3

l<, /SPAN>4

t2

m

z

D

D1

D3

B3

B4

B5

l5

l6

B4

b3

D2

250

30

8

60

120

16.5

55

16

85

135

58.5

3

40

120

95

100

165

155

20

35

40

170

25

100

350

40

12

85

150

21.5

55

16

85

165

58.5

3

48

144

90

110

214

190

25

45

60

222

30

120

400

40

12

85

160

21.5

80

24

125

175

85

3

56

168

90

140

234

208

25

45

60

250

35

150

500

50

16

85

220

28

80

24

125

200

85

4

56

224

120

170

270

239

35

50

75

290

50

200

650

60

18

110

290

32.5

110

32

165

265

116.5

6

56

336

170

260

342

310

40

68

95

370

60

250

750

60

18

110

310

32.5

110

32

165

285

116.5

6

56

336

170

260

362

330

40

68

95

410

75

275

850

90

24

135

340

49

130

36

200

325

137.2

8

54

432

200

260

403

363

50

78

100

480

75

300

1000

90

24

135

380

49

130

40

240

365

158.2

10

48

480

200

320

507

442

60

98

126

495

80

325
MODEL

DISTANCT

HIGHT OF CENTER

MAX BOUNDARY DIMENSION

SHAFT END SIZE

INSTALLATION SIZE

QUALITY(Kg)

A

H0

L

B

H

B1

B2

B3

B4

S1

S2

L1

L2

L3

B4

H1

n-d

C

250

250

160-1

540

230

325

200

220

165

--

235

190

345

100

--

--

4-17

60

100

350

350

200-1

730

290

405

260

250

214

--

310

250

470

130

--

--

4-17

100

200

400

400

250-1

825

310

490

270

300

234

--

370

270

490

135

--

--

4-17

110

250

500

500

300-1.5

990

350

590

330

325

270

--

240

310

620

150

--

--

6-17

130

390

650

650

320-1.5

1280

470

700

430

430

342

318

215

410

830

185

495

318

95

8-25

160

880

750

750

320-1.5

1450

510

745

450

450

362

362

275

450

1020

210

620

362

130

8-32

155

1100

850

850

400-1.5

1630

580

875

510

525

403

418

300

520

1100

235

620

418

105

8-32

155

1500

1000

1000

400-1.5

1900

660

965

550

605

507

478

350

590

1350

260

870

478

200

8-32

200

2230
Model

HIGH-SPEED SHAFT

LOW-SPEED SHAFT

ZQ

Z

CA.C

F

d1

b1

l1

l2

t1

d2

b2

l3

l<, /SPAN>4

t2

m

z

D

D1

D3

B3

B4

B5

l5

l6

B4

b3

D2

250

30

8

60

120

16.5

55

16

85

135

58.5

3

40

120

95

100

165

155

20

35

40

170

25

100

350

40

12

85

150

21.5

55

16

85

165

58.5

3

48

144

90

110

214

190

25

45

60

222

30

120

400

40

12

85

160

21.5

80

24

125

175

85

3

56

168

90

140

234

208

25

45

60

250

35

150

500

50

16

85

220

28

80

24

125

200

85

4

56

224

120

170

270

239

35

50

75

290

50

200

650

60

18

110

290

32.5

110

32

165

265

116.5

6

56

336

170

260

342

310

40

68

95

370

60

250

750

60

18

110

310

32.5

110

32

165

285

116.5

6

56

336

170

260

362

330

40

68

95

410

75

275

850

90

24

135

340

49

130

36

200

325

137.2

8

54

432

200

260

403

363

50

78

100

480

75

300

1000

90

24

135

380

49

130

40

240

365

158.2

10

48

480

200

320

507

442

60

98

126

495

80

325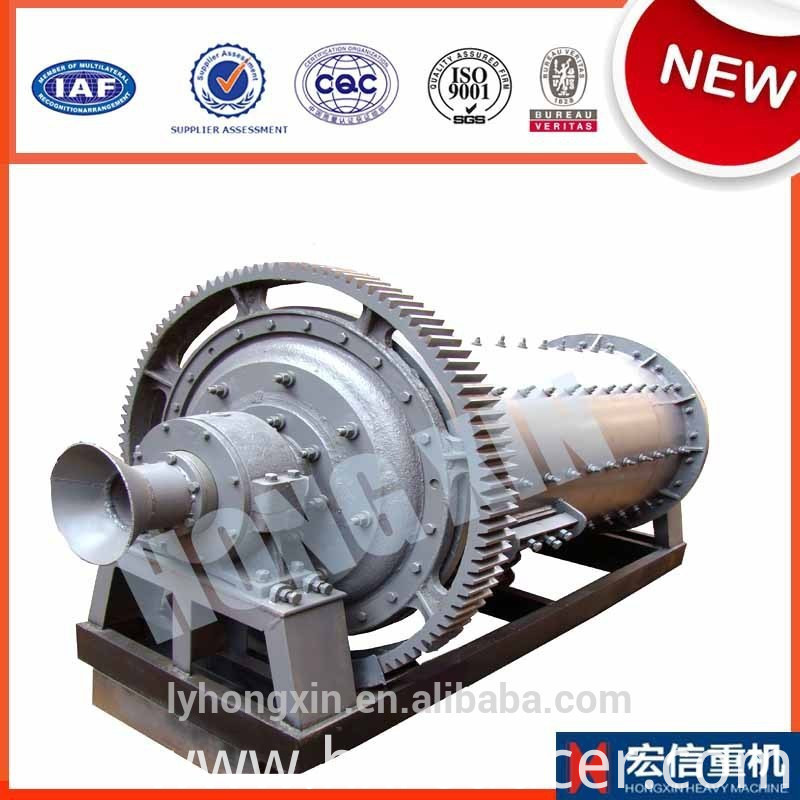 Planetary Gear Reducers:
1.Adopt the modular design, change and combine according to customers` demand.
2.The gearbox is made of the nodular cast iron to greatly improve the rigidity and anti-vibration of the box.
3.Both sun and planetary gears in the gearbox are made of advanced nickel-chrome steel, whose accuracy reaches HRC58-61 after being grinded through carburizing and quenching heat treatment to reduce the noise and improve the efficiency and service life of the whole machine.
4.X series Roller Press reducer adopts evolvent planetary gear for the transmission, which reasonably utilizes internal and external meshing and power dividing. Featured with light weight, small volume, large transmission ratio range, high efficiency, low noise and well-adapted ability, this product is extensively utilized in the industrial departments of metallurgy, mining, crane transport, electricity, energy, construction materials, light industry and transportation.
5.Output methods: the internal spline type, the hollow shaft contraction disc, the spline type and the solid shaft flat key.
6.Input methods: the concentric coordinate, the helical gear input, bevel gear-helical gear input and bevel gear input.
7.Installation form: the horizontal installation, the vertical installation and the torque arm installation.
8.The X series products have 9-34 type of specification. The planetary transmission stages are divided into double stage and triple stage. The speed ratio is 25-4000, which will be greater when combined with CR, K and R series.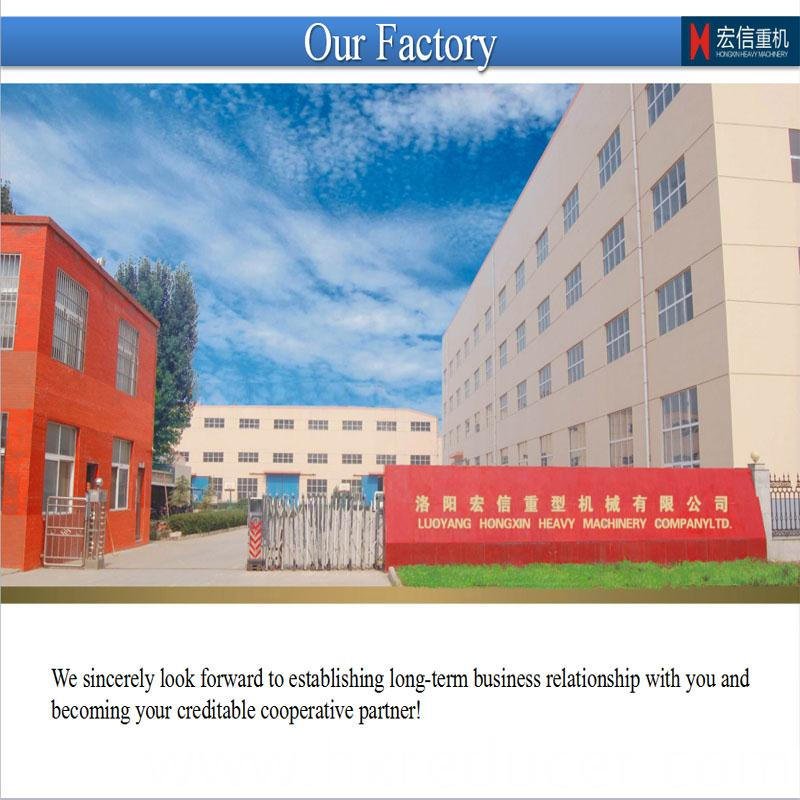 workshop show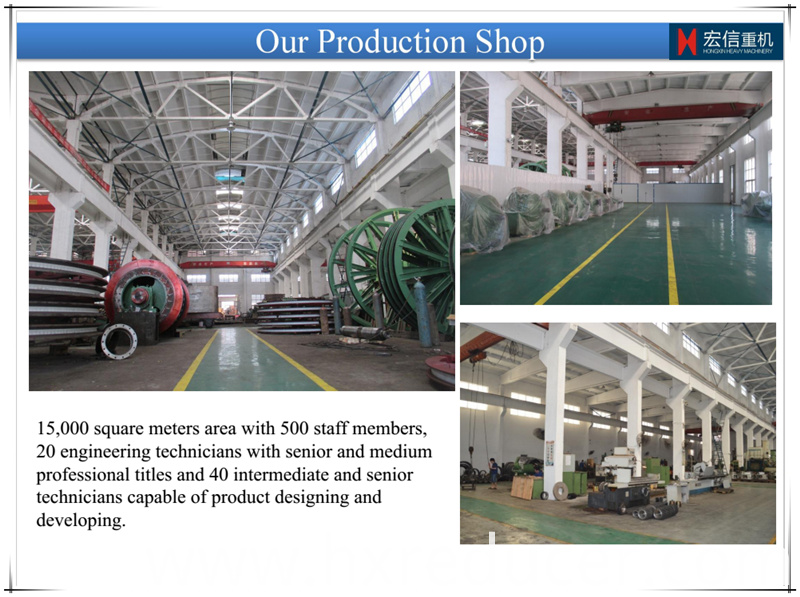 Factory Equipments
Luoyang Hong Xin Heavy Co., LTD. is located in Luoyang Xin'an Industrial Park, Luoyang Hongxin Heavy Machinery Co., Ltd is an enterprise featured with industrial designing, processing and manufacturing, which is qualified for import-export trade. Covering an area of 15,000 square meters and holding an annual production value of 80 million RMB, the company of 20 million RMB registered capital has total 100 staff members, among which there are 20 engineering technicians owning senior and medium professional titles and 40 intermediate and senior technicians capable of product designing and developing.
Hongxin is dedicated to produce reducers, hoists, crushers, Ball Grinding Mills and the equipments of screening, coal washing, metallurgy and cement, and replacement parts. Meanwhile, we provide the perform maintenance service for various series of equipments. There are 52 large-scale equipments applied into the manufacturing process, such as T200 CNC floor boring and milling machine, YK 73125 CNC molding gear grinding machine, YK322B CNC molding gear grinding machine, Y3200 gear hobbing machine, Y1600 CNC gear sharper, 4m vertical lathe, 6.3m CNC vertical lathe, T110 CNC boring machine, and 52 middle-sized productive and assistive equipments, which integrate strong manufacturing and processing capability with complete managing system of production and technology, quality management system and comprehensive testing
measures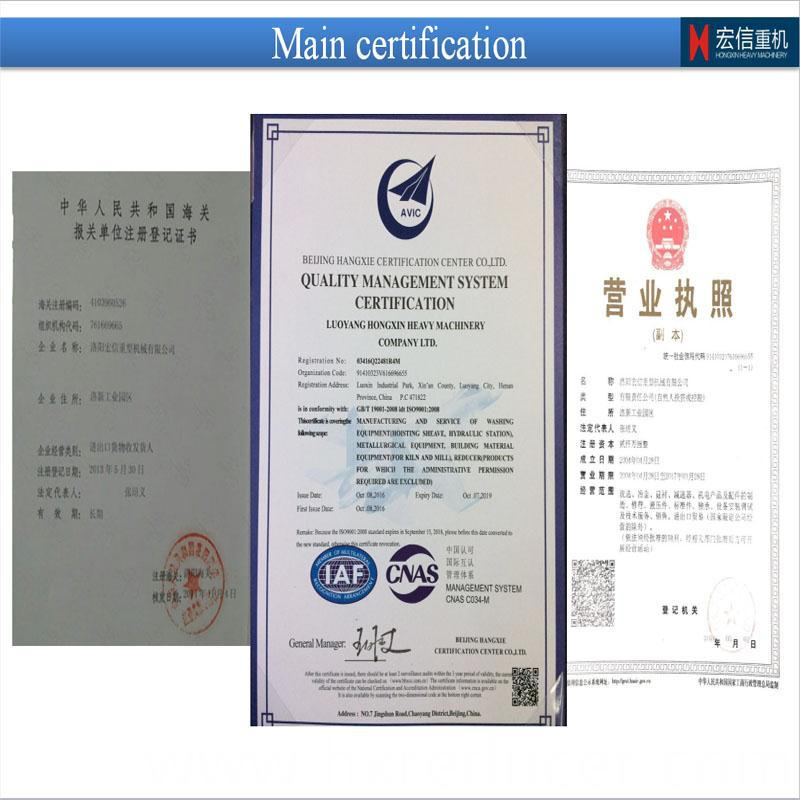 Contacts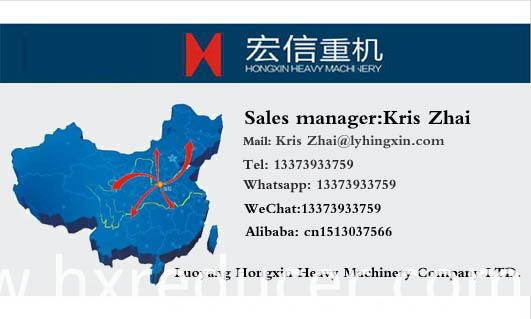 Looking for ideal Coal Grinding Mill Equipment Manufacturer & supplier ? We have a wide selection at great prices to help you get creative. All the Grinding Mill Price are quality guaranteed. We are China Origin Factory of Air Swept Coal Ball Mills. If you have any question, please feel free to contact us.
Product Categories : Gear Reducers > Planetary Gear Reducers