Centrifugal High Pressure Roller Mill
Technical parameters:
Product model

GY-300

GY-400

GY-540

GY-700

GY-800

GY-900

Maximum feed size

20

40

60

70

80

100

The discharging granularity

<0.5(cover) 26%0.5-5(cover)4%

<0.5

26%0.5-5

74%

<0.5(cover)26%0.5-5(cover)74%

<0.5(cover)26%0.5-5(cover)74%

<0.5(cover)26%0.5-5(cover)74%

<0.5(cover)26%0.5-5(cover)74%

The motor power

132

180

250

315

400

315

Pregrinding capacity

15-30

30-60

50-100

80-150

120-180

150-250

Main engine dimensions

Φ1.7X2.0

Φ2.4X2.6

Φ2.8X2.9

Φ3.9X4.0

Φ4.2X4.3

Φ4.8X4.4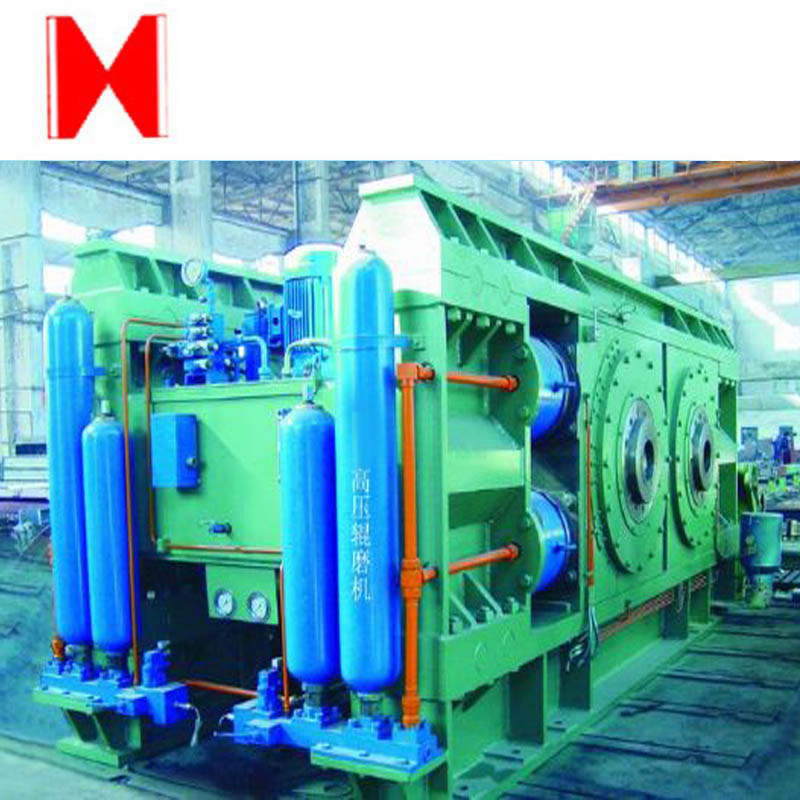 Product introduction:
High pressure Centrifugal Roller Mill is vertical structure,it consists of spindle, rotor body,several grinder roll and body,etc. the rotor body rotates around the spindle,the grinding roll rotates around the rotor body and at the same time it rotates itself, a slide is designed on the rotor body so that the grinding roller can move in a radial direction easily on the rotor. A spring device is installed on the rotor body to act directly on the roller. After the material is fed in from the upper feed inlet, the material is rolled under the combined action of a large centrifugal force (100-300 MPP) and spring force through the distribution plate evenly distributed between the grinding roll and the wear-resistant lining plate. Materials that have been repeatedly crushed into powder form are removed from the lower outlet.
Advantages and characteristics of pressure centrifugal roller mill
1.Saving energy and reducing consumption
1) Make full use of centrifugal force as crushing force.
2) The energy utilization rate is much higher than other crushers, and the power saving effect is obvious (for example, the output of 80t/h Roller Press is about 820 ~ 860kw, and the power of high-pressure centrifugal roller mill is only 280kw).
3) The usage of large ball of grinding body is reduced (no longer use large diameter ball and forging for tubular grinding 1 bin).
4) There is no relative slip between grinding roller and material, which greatly reduces the consumption of grinding material.
5) The wear-resistant material is surfacing high chromium molybdenum alloy, which prolongs the service life.
6) The diameter of materials entering the Ball Mill is 93% ~ 95%, less than 5mm (50-70% is powder material less than 1mm), which reduces the wear resistance material consumption of ball mill by more than 60%.
2. Low failure rate
The hydraulic system with high failure rate is abandoned, which has simple structure, convenient operation and low failure rate (50% ~ 80% lower than roller press).
3. The ball mill can increase the output between 30% and 50%
1) After high pressure centrifugal roller mill processing into ball mill, the diameter of less than 5mm material is about 95%, saving electricity and reducing consumption significantly.
2) About 6 ~ 10 yuan can be saved per ton of grinding cost.
4. Strong adaptability
1) the gap between the grinding roller and the lining plate can be adjusted , not only can the pre - powder grinding of various materials be applied , but also sand and stone can be produced in place of the sand making machine ; the equivalent machine power , the sand forming rate is improved by 30 percent , and the yield is improved by 25 percent .
2) The grinding roller is designed with a spring mechanism, which can give way to non-crushing materials.
3) Great crushing power, suitable for crushing of ores of various hardness.
4) Good practicability. Because the structure of the roller press is more scientific, more reasonable and simpler. So it's easy to use and maintain, and the cost of use and maintenance is only about a quarter of a tenth of the cost of a roller press (which has been granted the national patent).
Company profile: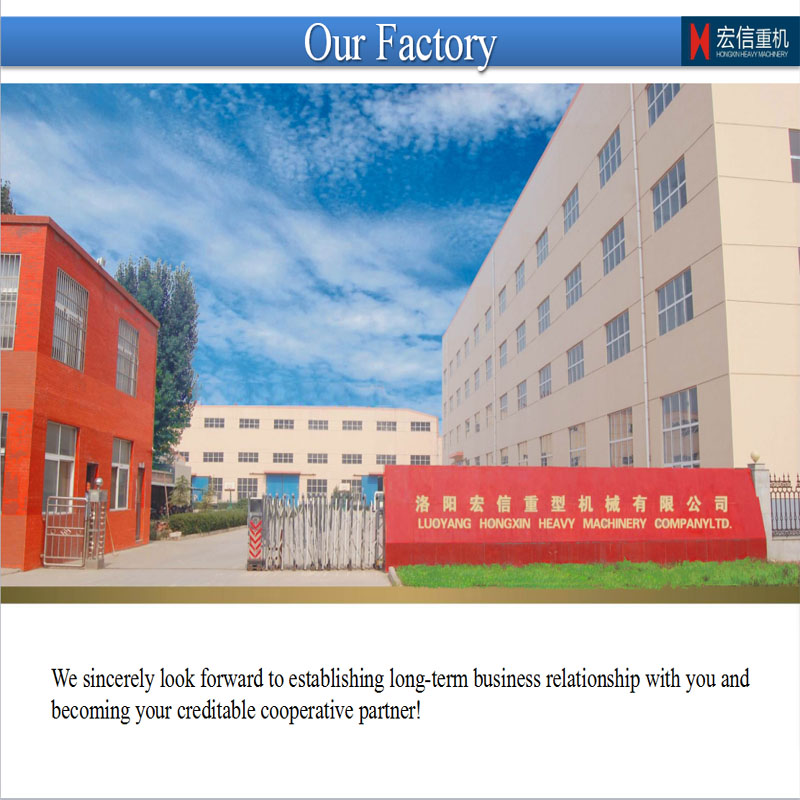 workshop show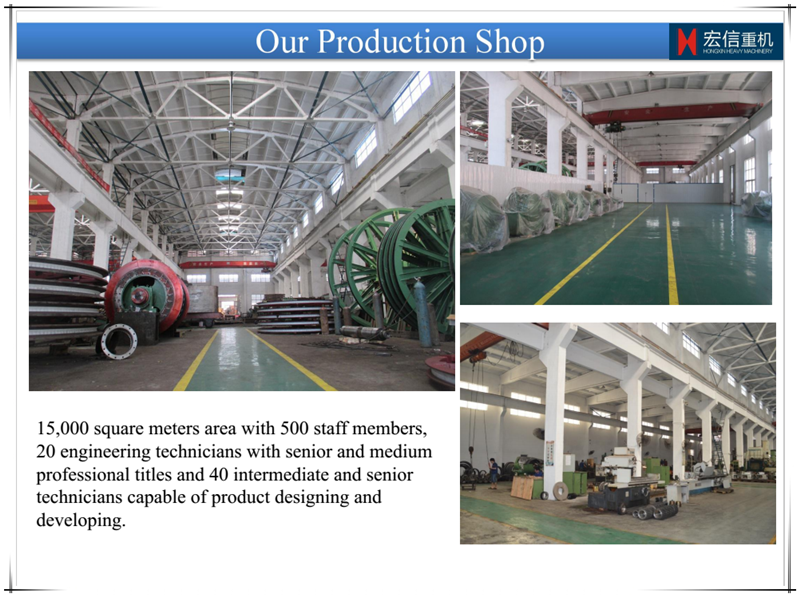 Factory Equipments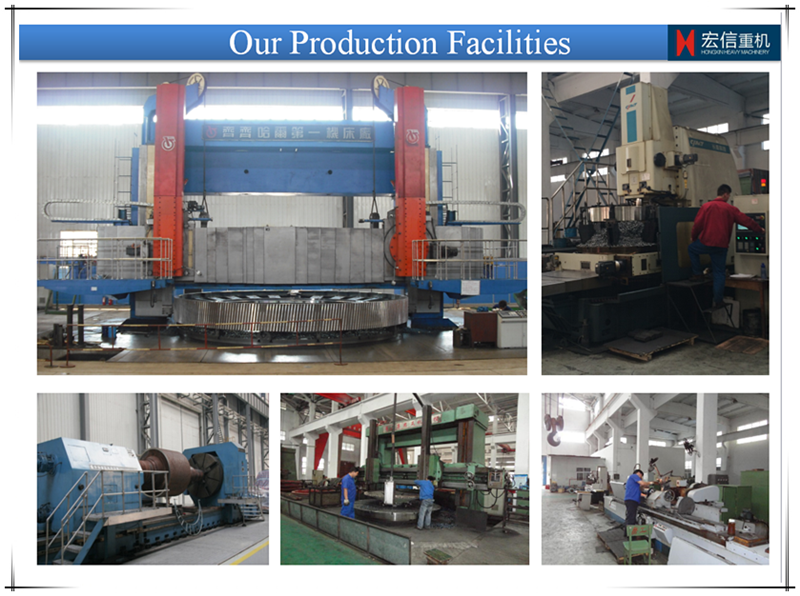 Luoyang Hong Xin Heavy Co., LTD. is located in Luoyang Xin'an Industrial Park, Luoyang Hongxin Heavy Machinery Co., Ltd is an enterprise featured with industrial designing, processing and manufacturing, which is qualified for import-export trade. Covering an area of 15,000 square meters and holding an annual production value of 80 million RMB, the company of 20 million RMB registered capital has total 100 staff members, among which there are 20 engineering technicians owning senior and medium professional titles and 40 intermediate and senior technicians capable of product designing and developing.
Hongxin is dedicated to produce reducers, hoists, crushers, Ball Grinding Mills and the equipments of screening, coal washing, metallurgy and cement, and replacement parts. Meanwhile, we provide the perform maintenance service for various series of equipments. There are 52 large-scale equipments applied into the manufacturing process, such as T200 CNC floor boring and milling machine, YK 73125 CNC molding gear grinding machine, YK322B CNC molding gear grinding machine, Y3200 gear hobbing machine, Y1600 CNC gear sharper, 4m vertical lathe, 6.3m CNC vertical lathe, T110 CNC boring machine, and 52 middle-sized productive and assistive equipments, which integrate strong manufacturing and processing capability with complete managing system of production and technology, quality management system and comprehensive testing measures.
Certificate: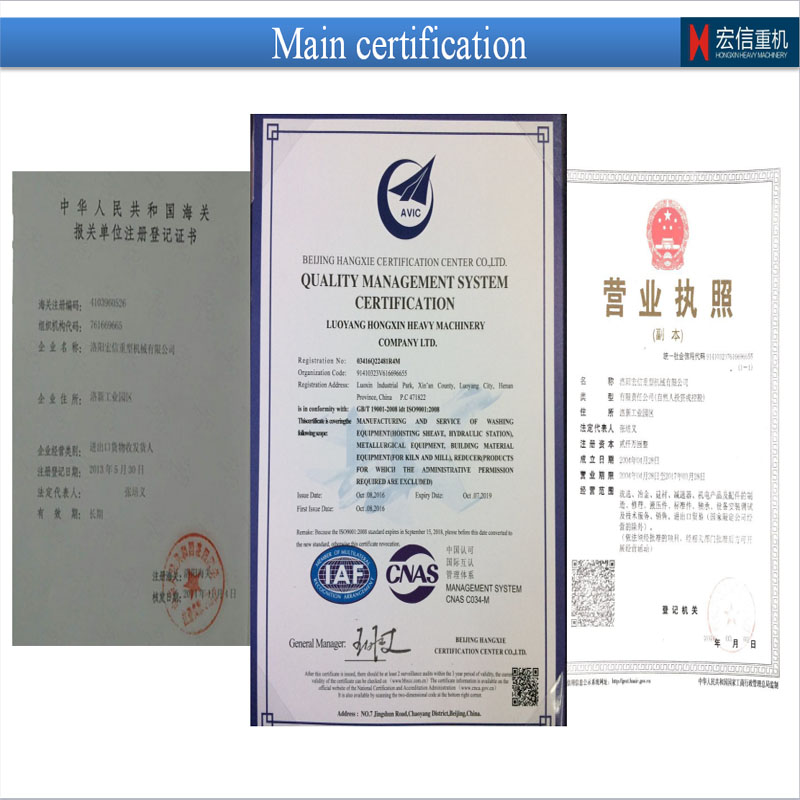 Contacts: